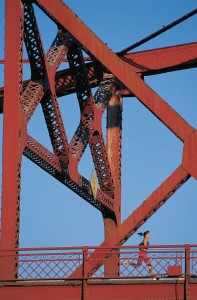 During the month of January, BCC bloggers have explored a variety of themes that reflect the ever changing role of the teacher librarian in the school community, but one consistent thread has emerged. The role of bridge builder and ombudsman for connecting all the stakeholders-administrators, classroom teachers, specialists, parents, community members, and students-is one that needs to be cultivated intentionally and with forethought.  I suggested a goal for reaching out to a new audience, not just preaching to the choir.  Judi wrote about breaking down the silos between professionals through the blogosphere with an upbeat response to promoting classroom and school libraries together.  Sue shared her own experiences as a bridge by providing library collections for classroom teachers, and Melissa honed in on advocacy as a means for building connections and partnerships between teacher librarians and stakeholders.  A key message from all of these ideas is the need to be proactive, and not reactive.
A good way to begin bridge building is to get out of the school library and into classrooms and other learning spaces in your school. Even if you are on a fixed schedule, make time to walk in others' shoes, see challenges through others' eyes.   Listen closely and observe what is happening. Be a detective. Take note of initiatives, demands on schedules, or problems that might impede learning that effect the whole school environment.   Find out what is on the principal's hot list, because s/he is usually on the hot seat!  Then ask yourself, how can I be part of the bigger picture, and align the school library program with the wider school community?
Tracey Wong writes in the October 2013 issue of Library Media Connection, "I learned that building bridges is a way of life if you are passionate about your work." (30)  Once at loggerheads with her principal, she was able to turn the relationship around by using five key points for building bridges learned in an advocacy class with Deb Kachel at Mansfield University.  She goes on to describe the five points and how they continue to guide and improve her school library program, as she grows professionally and personally as she collaborates with multiple stakeholders. The five key points for building bridges include building communication, community, relationships, partnerships, and resources.  To see how she flipped her thinking and became proactive, read the entire article!  It's inspiring and presents a model to follow.
How do you build your bridges?
References:
Wong, Tracey. 2013. "Building Bridges."  Library Media Connection 32 (2): 30-1.
Image: Microsoft Clipart