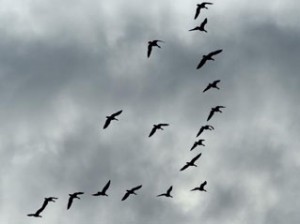 This fall, I have been doing a great deal of reading about the concept of distributed leadership. The Distributed Leadership Study led by Jim Spillane at Northwestern University's School of Education & Social Policy Web site has a wealth of resources and information to explore this topic.
In my experience serving in two different states, four different school districts, and seven different schools, I have worked with several principals who have practiced this model. As an educator in these schools (in these cases as a school librarian), I knew that my work "counted." I was empowered to take risks, make a difference, learn, and contribute to the good of the whole.
Michael Fullan is another scholar and researcher in this area whose work has influenced my thinking. I especially resonate with his idea of "collective capacity" that allows groups of people to accomplish more together than they ever could accomplish working on their own. Fullan says there are two reasons for this. First, "knowledge about effective practice becomes more widely available and accessible on a daily basis" and secondly, "working together generates commitment" (Fullan, 2010, p. 72). I believe this is the promise and the potential of building a culture of collaboration—spreading effective practices and fostering commitment to the success of the enterprise.
Let the migrating wild geese be our guides. It seems like every few years someone publishes their video version of Dr. Robert McNeish's 1972 story "Lesson from Geese." At this time of year when many of us are scrambling around to finish up the semester, it may be especially good to pause and reflect on the many benefits we derive from teamwork.  I enjoyed this "(Updated) Lessons from Geese" version from weeblemeister. Take two minutes. Maybe you will, too.
References
Fullan, M. (2010). All systems go: The change imperative for whole school reform.  Thousand Oaks, CA: Corwin, 2010.
Gabor, Karpati. Geese. Digital Image. Morguefile.com. http://mrg.bz/UJe6zj
Weeblemeister. (2012). (Updated) Lessons from Geese. YouTube.com. http://www.youtube.com/watch?v=HGY9i8iJu94