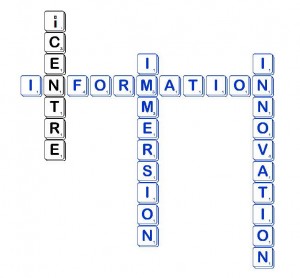 At the 19th Treasure Mountain Research Retreat "The Learner in the Learning Commons" held in Hartford, Connecticut last month, keynoter Dr. Lyn Hay presented "An Anatomy of an iCentre." Dr. Hay who teaches at Charles Sturt University, Wagga Wagga, NSW, Australia has long held the belief that school libraries must be the information-technology hub of learning and that school librarians must provide curriculum leadership and bring all of the school/library stakeholders together in a collective, collaborative effort to transform teaching and learning. In the digital age, the iCentre model is a path toward sustainability for school libraries. These are my take-aways from Dr. Hay's talk.
The leadership in the iCentre is shared among the librarian, IT faculty, curriculum coordinators, and more. Together, they have a shared commitment to bringing the technology that people use outside of the school walls and integrate it into school-based learning. Dr. Hay calls this "digital normalization." (See The School Evolutionary Stages: The Concept of Global School Evolution blog.)
"The form the school library takes reflects the function" (Hay). Dr. Hay described the three "i's" in the iCentre: information, immersion, and innovation. In the physical and virtual spaces of the library, school librarians teach individual learners as well as small groups and whole classes. They coteach with teachers to facilitate the iCentre's information-technology convergence through the large flexible space and fluid design of the physical library.
If principals and architects bring a "bricks and mortar approach" to the library space redesign, it is essential that school librarians help them see the necessity of breaking out of traditional school library models. The role of the librarian should be of a leader who helps "fuse the work" of teaching and learning across the curriculum. School librarians must be key information, technology and learning leaders who combine their work with their colleagues' efforts and reconcile various approaches to inquiry across the disciplines.
With a commitment to service, a core value of librarianship, school librarians can change library stakeholders' expectations for their role. iCentre leaders can provide a strategic and operational framework for integrated learning that motivates and guides a whole school agenda. As such, the iCentre becomes an "innovation machine" in which students, teachers, specialists (including technology integrationists) see their roles blending and building in order to transform learning and teaching.
What impressed me most about Dr. Hay's presentation was her focus on the adult learner leaders in the iCentre. Without the collaborative and innovative efforts of the schools' adults, students will not have access to on-going transformative learning experiences. Check out Lyn Hay's blog: Students Learning through School Libraries
Image created by Judi Moreillon in Microsoft Word with Scramble Font