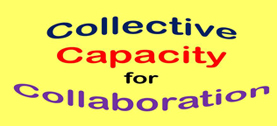 Last week, the American Association of School Librarians (AASL) published an infographic that summarizes some of the findings from the "NCLE Report: Remodeling Literacy Learning." We reported on a few highlights of the study in an April 2013 post. See "School Structures that Support Collaborative Cultures."
AASL's new infographic "Working Together is Working Smarter" spotlights the various ways in which school librarians support a collective capacity for collaboration in their schools. Through librarians' work with "internal collaborative teams," individuals and groups of students and teachers receive support for teaching and learning. Three specific ways are highlighted on the graphic:
Helping individual teachers and students locate resources.
Participating in collaborative planning that focuses on accessing, evaluating, and applying information.
Leading professional development for staff and educators (AASL).
The infographic goes on to share some of the ways schools librarians practice continuous learning in order to improve their leadership abilities. School librarians might consider linking this document to the library homepage or posting it on the library bulletin board or in school library office if colleagues will see it there. This infographic could also be a very fine welcome back to school gift for administrators who may need to be reminded of the central role school librarians can play in helping build a collective capacity for collaboration.
Work Cited
American Association of School Librarians. "Working Together Is Working Smarter." ALA.org. N.p., n.d. Web. 6 Aug. 2013. <http://tinyurl.com/aaslncleinfographic>.