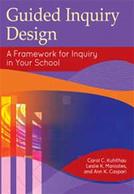 When the school year ended in Denton (Texas) Independent School District (DISD), the Denton Inquiry 4 Lifelong Learning Project (DI4LL) sponsored a two and a half day workshop with Dr. Leslie Maniotes, coauthor of Guided Inquiry Design: A Framework for Your School (Libraries Unlimited 2012). The workshop, which was funded by a grant from the Texas State Library and Archives Commission (TSLAC), was designed for preK-12 DISD school librarians to build on the book study they had conducted. School librarians were asked to invite their classroom teacher or specialist colleagues to participate with them, and most of the librarians who attended came with one or more colleagues. I attended as the DI4LL educational consultant.
Not since the heady Library Power days of the mid-1990s have I been as impressed with professional development that involved school librarians and classroom teachers sitting side by side to learn, to identify and solve curricular challenges, and plan inquiry learning lessons and units for student success. As a professional developer, I always ask if classroom teachers are free to attend the workshops I provide for school librarians. And the answer is always the same. The teachers are in the classroom or engaged in some of type of professional development at the time of the workshop so the school librarians are meeting separately. These are missed opportunities.
The DI4LL Inquiry Design Workshop is a testimony to why joint professional development should be the rule rather than the exception. Thanks to Dr. Maniotes and her workshop design that included blocks of time for teams to talk and collaboratively plan, all of the classroom teacher-school librarian teams left the workshop with plans for teaching standards-based inquiry lessons or units of instruction.
Building relationships and instructional partnerships during professional development activities can support educators in enacting their professional development learning in their daily practice. In fact, it almost guarantees it. With shared undersandings, vocabulary, instructional goals, learning objectives for students, and teaching strategies, educators can more easily enact their learning with a colleague who will coteach with them.
Professional development that supports coteaching works. It creates opportunities for school librarians to positively impact student learning alongside classroom teachers. There is no better way for the skills and expertise of two or more educators to improve educators' teaching and students' learning.
Congratulations to the DISD classroom teacher/specialist and school librarian teams and to Dr. Maniotes for facilitating their outstanding collaborative work. Thank you also to TSLAC for funding this joint classroom teacher-school librarian professional development opportunity.
Work Cited
Kuhlthau, Carol C., Maniotes, Leslie, and Caspari, Ann. Guided Inquiry Design: A Framework for Your School. Santa Barbara, CA: Libraries Unlimited, 2012.