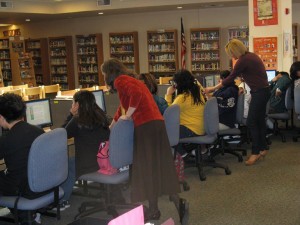 To continue responding to the results of NCLE's "Remodeling Literacy Together: Paths to Standards Implementation" survey findings:
•    Teachers feeling most comfortable tend to be those more frequently working with others to analyze student work, design curriculum, and create assessments (NCLE).
Change involves risk-taking. It is essential to have respected and trusted partners when taking professional risks.
Who can help? A 21st-century school librarian must have the dispositions and skills to work with all her/his colleagues in the building. Everyone deserves support, especially when expectations change, and school librarians, who are required to work with all of our colleagues, are perfectly positioned to supply that support. When classroom teachers and school librarians coplan and coimplement lessons, and coassess student learning outcomes, librarians are providing the support teachers need and improve their own practice in the process. This is a win-win-win-win situation for all students, teachers, librarians, and administrators.
•    Teachers engaged in cross-discipline conversation about literacy are making greater shifts in their instruction (NCLE).
In many secondary schools, in particular, the disciplines have been working in silos: language arts teachers talking with language arts teachers, social studies with social students, science with science, and so on. Some schools have made strides in breaking down the institutional barriers between the disciplines because they know our brains do not learn or function in discrete-discipline-based ways.
Who can help? The work of school librarians has always been and will always be interdisciplinary. Reading and language arts are integrated into every aspect of the processes in which students engage while learning through the library program. Whether teaching reading comprehension strategies or inquiry-based research, school librarians must be knowledgeable about how students employ multiple skills and strategies to interact with ideas and information.
School librarians also have a global view of the learning community and can bring educators in different disciplines together to coplan, coteach, and coassess interdisciplinary units of instruction. This is a strength that school librarians bring to the table that can increase rigor and alignment in the academic program in any school.
•    When given the opportunity, teachers are owning the change by innovating and designing appropriate lessons and materials (NCLE).
Again it is no surprise that when teachers "own" the changes in their work environment, they bring their creativity, expertise, and experience to bear and design lessons and integrate resources that are more engaging and effective for learners.
How can school librarians contribute? School librarians must be experts in instructional design. They have experience working with students at various grade levels and in all content areas. School librarians keep abreast of the latest resources, print, digital, and human, and should always be seeking innovative ways to integrate resources into the curriculum for the benefit of students and teachers.
As a poster from the national Dewitt Wallace-Reader's Digest Library Power initiative of the 1990s noted: "Teaching is too difficult to do alone. Collaborate with your school librarian!" I hope the results of the NCLE report will bring all the members of your school's academic program together to coplan, coteach, and coassess student learning and that your school librarian will be among the leaders at your table.
Thank you to NCTE Executive Director Kent Williamson for being the catalyst to form the NCLE literacy coalition. This is survey is just one example of the power of organizations joining forces and working together to improve literacy learning and teaching for all.
Works Cited
"Remodeling Literacy Learning Together: Paths to Standards Implementation." Literacy in Learning Exchange. 18 Feb. 2014. Web. 29 Mar. 2014. <http://www.literacyinlearningexchange.org/remodeling-together>.
Coteaching Photograph of Librarian Jean Kilker and her Colleague from the Personal Collection of Judi Moreillon – Used with Permission