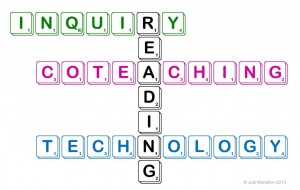 One of the findings of "Creating 21st-Century Learners: A Report on Pennsylvania's Public School Libraries" is this: "The overall findings fit with research we've seen in other states–access to a full-time, certified school librarian significantly impacts students achievement in reading."
In my PSLA Conference '13 keynote, Leadership Begins with a Bag of Chocolates, I shared the image above to show the connections among inquiry, coteaching, technology, and reading. Reading is, to my way of thinking, at the core of our mission as school librarians. Reading proficiency is surely at the core of the Common Core State Standards.
Traditionally, school librarians have considered themselves educators who promote a love of reading rather than as coteachers of reading comprehension strategies. If we take the results of the PA School Library Project to heart, we should consider the school librarian's potential to impact reading proficiency through integrating reading strategies into our cotaught inquiry units of study. Integrating technology, inquiry, and reading through coteaching
References
Moreillon, Judi. "Reading-Inquiry-Technology-Coteaching Connections." Digital Image. From the Personal Collection of Judi Moreillon.
PA School Library Project. 2012. "Creating 21st-Century Learners: A Report on Pennsylvania's Public School Libraries." PA School Library Project. http://tinyurl.com/PAstudy2012